3/30/2021
Milbank Names Bell & McCoy Power Solutions 2020 Rep of the Year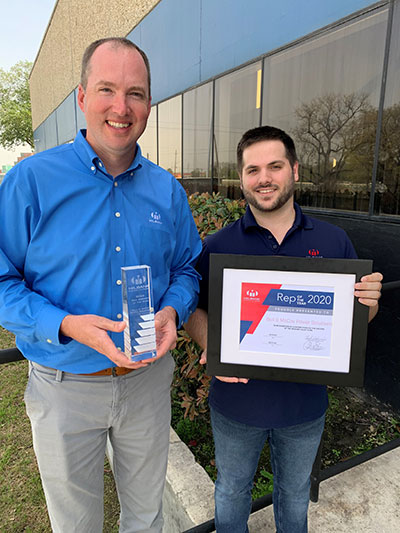 Bell & McCoy Power Solutions General Manager Micah Johnson and inside sales rep Luke Edmonds pose with the award.

For performing well in a challenging year, Milbank was pleased to name Texas-based manufacturers' representative Bell & McCoy Power Solutions as its Rep of the Year for 2020. Bell and McCoy has represented Milbank for more than 27 years. In 2017, they expanded their partnership when the new Power Solutions Division assumed all of Milbank's utility business in Texas, Oklahoma, Louisiana, Mississippi and Arkansas.

Milbank's Rep of the Year award program began in 2017, and the title is awarded to one manufacturers' rep agency based on criteria including positive sales growth, new sales volume in at least five of eight Milbank product lines and extensive knowledge of Milbank products. Building and maintaining relationships is an important Milbank value and the award also looks for reps who provide exceptional customer relationships and have responsive, professional and courteous interactions with Milbank personnel.

Bell & McCoy was awarded Rep of the Year primarily due to their strategic execution, commitment
and double-digit growth in their Power Solutions division.

Jay McMullen, Director of Sales, Central Region, said, "In 2020, the agency more than exceeded expectations with sales growth over 37%. Their consistent dedication to offering exceptional service and value to our customers, despite the challenges that last year presented, is what sets Bell & McCoy Power Solutions apart as an exceptional manufacturers' representative."

"We are grateful for this honor from Milbank. We have been great partners for many years and it's a pleasure representing such a great company," said Chris Coursey, Principal, Bell & McCoy.

Milbank takes pride in the longstanding and successful relationship between the two organizations. "We have had a great partnership with Bell & McCoy and they consistently look for ways to maximize growth with Milbank," said Chris Buelow, Sr. VP of Sales & Marketing. "Their continued passion for excellence was demonstrated in 2020, achieving significant double-digit growth during a challenging year," Buelow added.

If looking to complete utility projects in Texas, Oklahoma, Louisiana, Mississippi and Arkansas, reach out to Bell & McCoy Power Solutions for more information. For other projects that require electrical supplies in the same reason, see other Bell & McCoy offices that can help.