The Standard for Quality Since 1927
Milbank offers hundreds of different types of single position, residential, self-contained meter sockets, as well as instrument rated meter sockets. Applications range from a single family house to a large industrial factory. There are hundreds of configurations available, including many sizes, knockout configurations, terminal configurations, hubs, locks and connectors.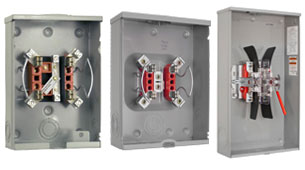 Single Position Sockets
Milbank offers hundreds of different types of single position, residential, self-contained meter sockets, approved in thousands of utilities across the U.S. and the world. Learn more about Milbank single position meter sockets.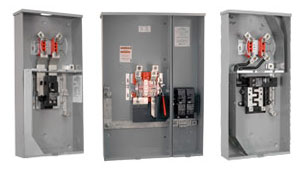 Meter Breaker Combination Sockets
Milbank's meter combos have disconnects, breakers or fusing. Meter combos are ideal for rural applications, outbuildings and other situations where service disconnects are located outside due to local codes and preferences. Learn more about our NEC 2020 compliant meter mains and U5168-style mains. Or read more about our 400 Amps meter mains.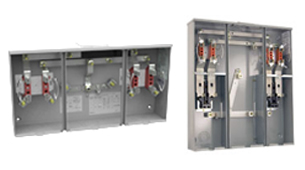 Multi-Position Meter Sockets
Milbank's multi-position meter sockets are designed to meet the needs of apartments, condominiums, strip malls and other applications where two or more meters are required. Learn about our freestanding multi-position power distribution pedestal.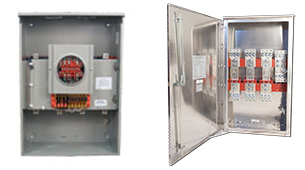 Instrument Rated
Milbank's CT rated sockets, transockets, enclosures and test switches provide the flexibility and safety needed for metering in commercial and industrial applications. Read about our new line of bussed CT cabinets.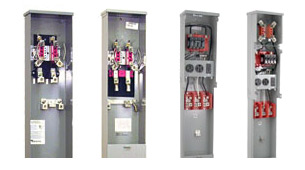 Pedestals
Milbank has a wide range of residential and commercial metering, temporary power and RV and mobile home pedestals. See more on our meter main pedestals or what our RV/Mobile Home series has to offer.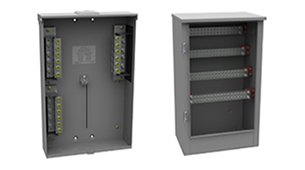 Terminal Boxes/Tap Boxes
Milbank tap boxes receive and distribute power for multi-tenant applications — a secure and streamlined solution to cumbersome trough systems, which are vulnerable to tampering and power theft. Get more information about our terminal and tap boxes.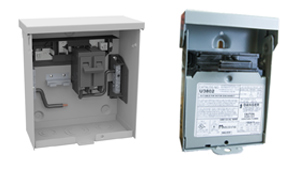 Disconnects
A/C disconnects and hot tub disconnects are used to ensure safety during maintenance, Milbank breakers are typically used for main breaker disconnect. Milbank's offerings include breakers and disconnects, both fusible and non-fusible.