4/22/2020
Milbank Supports Local First Responders and Medical Care Providers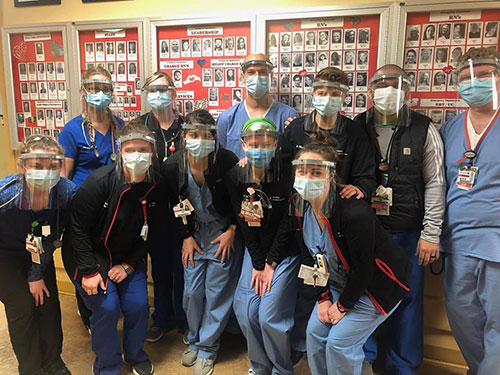 ER workers at a hospital display their new face shields donated by Milbank.
Milbank is committed to manufacturing electrical
metering products
,
enclosures
and
enclosed controls
needed by essential companies during this trying time. In addition to normal manufacturing capabilities, Milbank is producing personal protection equipment (PPE) to be used by first responders and medical care providers – those risking their health to protect others – in the Kansas City metro area.
Milbank used 3D printing capabilities to produce nearly 500 face shields, all of which were donated to health care workers. To increase the production volume of this PPE in high demand across the nation, Milbank has invested in an injection mold production tool to manufacture the halos. The next batch of face shields are currently in production and will be assembled by Milbank employees.
"Kansas City is our home and has supported our growth for more than 90 years. We care about this community and want to do our part to help those helping others," said Katrina Henke, Chairman and third generation Milbank family member. "I feel fortunate that we are in a position to help others — we will weather this storm together."
Milbank is devoted to producing PPE for health care providers in the Kansas City metro area. Many donations are being made and additional face shields will be sold at cost as long as supplies are available.
See more
on Milbank's response to the COVID-19 outbreak.