U6221 Meter Main Pedestals
The U6221 is a meter main pedestal that offers up to ten branch circuits with a 100 Amps main and up to eight branch circuits with a 200 Amps main as well as up to three receptacles. It is ideal for small freestanding businesses needing to distribute power for lighting or signs and is also a great fit for mobile home or RV parks or traffic lights and signals. In one application for a state DOT, the U6221 was used to help power traffic control.
This pedestal includes a NEMA 3R rated enclosure and offers a sealable and lockable meter main for safe, secure power distribution. The U6221 pedestal is available with a direct bury post. For a pad-mount applications, you can order the U6435, which offers the same features.
Get more information on Milbank meter main pedestals.
Features include:
Durable
Receptacles
Safe and secure
Versatile
Short circuit withstand rating of 22K AIC
Load center with feed through lugs
Loop feed lug landings
Alternate power interlock capability
UL listed
Made in the USA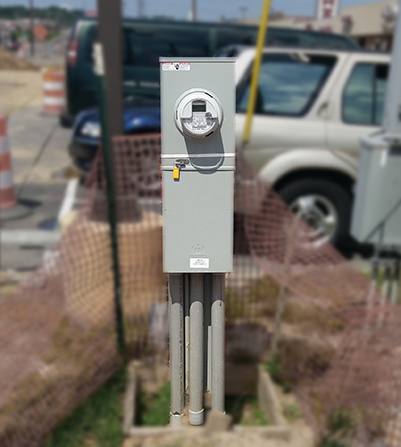 Benefits include:
NEMA 3R rated, aluminum shell
Up to three receptacles field or factory installed
One-piece post, sealable and lockable
Direct bury or pad-mount available
Up to 10-circuit load center with GFCI receptacle
Mobile Homes & RV Parks

Small Commercial

Traffic Control Power Distribution