7/31/2020
Address NEC 2020 Requirements with Milbank Meter Mains
As NEC 2020 starts to be adopted across the country, single- and two-position residential meter sockets will need an external emergency disconnect. One approach to this new requirement is using meter mains, which combines the meter and emergency disconnect inside one enclosure. Milbank meter mains have typically been used in applications where outbuildings or similar structures need an emergency disconnect to be located outside due to local code and preferences.

There are two sections with updates in NEC 2020 that are met by Milbank meter mains. The first is Section 230.85(1), which requires an emergency disconnect be readily accessible in an outdoor location for residential applications and to be clearly labeled as an emergency disconnect. The intent behind this change is to allow first responders to disconnect power in emergency situations rather than waiting for the electric utility to arrive and shut off the power supply.

Milbank meter mains that include a disconnect now include the necessary label that clearly marks them as an emergency disconnect for this purpose.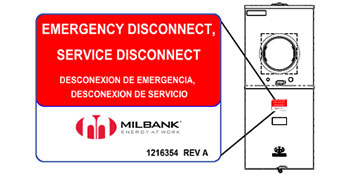 The second relevant update addresses Section 230.62, which requires energized parts to be enclosed or guarded to protect against accidental direct contact with those parts. This safety measure applies to parts that would still be energized once the main is in the off position and protects those working on the inside of service equipment on the load (customer) terminals.

There are various ways to ensure that live parts are protected. One example of protection from live parts is bushing, shown below on this 200 Amps U5168 meter main (outlined in white for clarity):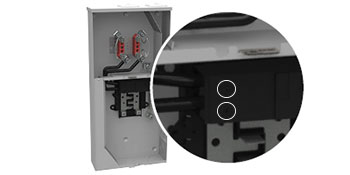 In other designs, another way to offer protection is to insulate the bus, such as shown on this U5882 meter main: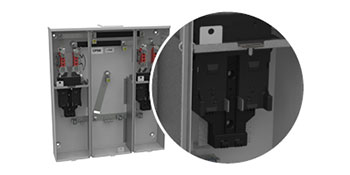 To comply with local and utility regulations across the country, Milbank offers a variety of meter mains with different features. Some options our meter mains have include:
Ringless and ring type

No bypass, horn bypass or lever bypass

100 Amps, 150 Amps, 200 Amps

All enclosures are NEMA 3R and products are UL listed. Meter mains are manufactured at one of Milbank's three U.S. facilities.

To learn about specific solutions for your region, contact your Milbank representative. Local authorities approve installations and determine if products are NEC 2020 compliant based on their regulations and interpretations. Always check with your local inspectors and utilities to ensure a product is approved in your area.

Learn more about Milbank meter mains compliant with NEC 2020.