6/30/2020
Find Power Solutions for Your Smart City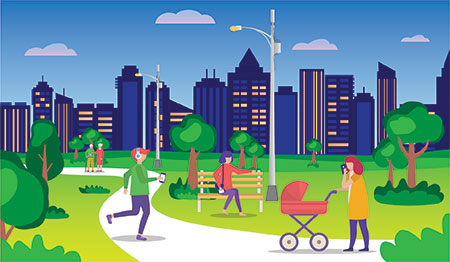 Telecommunications upgrades help cities adapt to the changing world of networking.

Smart Cities and 5G upgrades have moved to the forefront as networks continue to develop and are a large investment many municipalities are making. A Smart City is one that uses systems that send data to cloud-based data management systems that are used to manage municipal operations. The applications can include, but are not limited to, street lighting, EV charging stations, traffic management control, 5G upgrades and inter building electrical control systems.

The upgrade to 5G is largely driven by the ability to dramatically increase the network speed for any smart devices by using a high-band radio wave spectrum. While the broadband available in this higher range allows 5G to be so much faster, the range is smaller than it is for 4G, meaning that new small cells and repeaters need to be installed at closer distances. These devices are often mounted on existing poles and streetlights and will require other infrastructure attachments to ensure the devices are plugged into the existing network.

Milbank can provide integrated solutions to power cellular radio controls and other communication equipment used to create the Smart City and to drive current 4G communication and future 5G upgrades. As a key player in powering the communications industry, Milbank has worked with all major carriers to provide infrastructure power. While Milbank enclosed controls solutions can provide discreet and compact solutions for telecommunications applications, our metering products also provide power for cellular repeaters, such as the K6342 pedestal installed in downtown Milwaukee.

In addition to telecommunication, Milbank's enclosed controls can be used for multiple forms of power distribution, all scalable according to the demands of the project. Need power for EV charging stations, traffic signals, street lighting and cellular radio controls? Milbank can provide the source for all of it—all inside one NEMA 3R enclosure!
Our equipment provides many options for AC/DC power disconnect, distribution and protection. Other options include metered and non-metered products as well as various cabinet entry options and configurable breakers. Milbank enclosed controls include integrated fiber connections, factory-installed surge protection and are available as service entrance rated.

Milbank enclosed control solutions are UL listed and have been approved for use by numerous utilities all over the country. Whether a municipality is looking to become a Smart City, upgrade telecommunications abilities or further boost their current capabilities, our enclosed controls can provide a solution.

Download our flyer on communications power or take a look at what our enclosed controls can do.