4/30/2020
Milbank Develops Custom EV Charging Solutions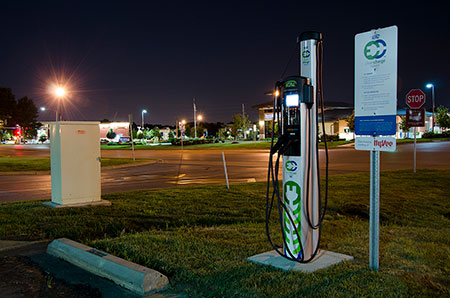 An EV charging station at a HyVee in Kansas City, Mo., powered by a Milbank pedestal.

Milbank has been supporting and advising the pioneers and early adopters of the EV charging market since the beginning, and true to the spirit of the company, has been working with different customers to ensure that their specific needs are fulfilled through Milbank enclosed controls that provide power to EV charging stations. One of these collaborations took place with local Kansas City, Mo. utility Evergy (formerly Kansas City Power & Light*).

Announcing the Clean Charge Network
In January 2015, Evergy announced its plan to develop the Clean Charge Network—an initiative that would rapidly expand its network of 40 public electric vehicle charging stations to nearly 1,000 stations. This wide expansion of public EV charging options would help Kansas City become an EV infrastructure leader and increase adoption of electric vehicles in the Kansas City area.

In order to accomplish this task effectively, Evergy wanted a single device that incorporated meter and service panels to streamline construction. They required a solution that had a support structure to mount meters, disconnect switches and load panels.

Providing Custom Solutions
Milbank engineers worked closely with Evergy to design a safe, durable and sleek EV charging pedestal that had minimal impact on streetscapes. In addition to being UL listed, lockable and metered, the design included a distribution panel and disconnect and overcurrent protection. This helped save time, money and space and made for quick, repeatable installations.

As the project evolved, Evergy needed different distribution variations for new applications and Milbank quickly produced solutions to fit their changing needs. When the project was complete, Evergy was using a single NEMA 3R enclosure with five different internal configurations that fit all their requirements.

Today, Evergy's Clean Charge Network consists of more than 1,000 free public charging stations, significantly reducing one of the main impediments to electric vehicle adoption—range anxiety. Milbank EV charging pedestals are located across the Kansas City metro, including at Macken Park in North Kansas City (pictured below).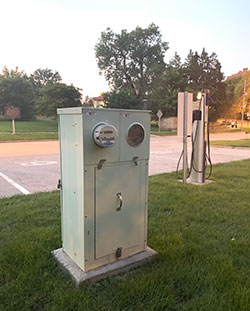 If you'd like to download a printable PDF version of the Evergy case study or see more applications for Milbank enclosed controls, click a link below.

Download the Evergy Case Study
Download the EV Charging Flyer
Download the Enclosed Controls Portfolio

If you'd like to see what Milbank's team can do for you, find more information about our enclosed controls product line.

*Kansas City Power & Light merged with Westar Energy to become Evergy in October 2019.