3/25/2020
Milbank Expands Role of Manufacturers' Rep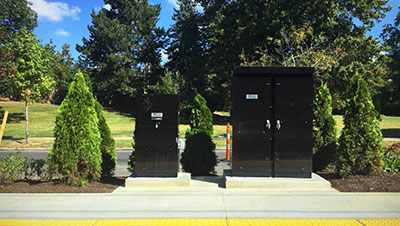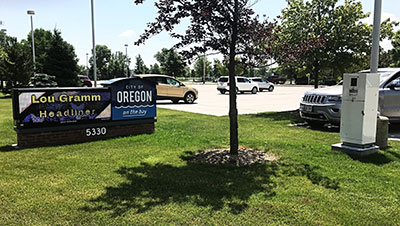 Pictured above: (left) Two commercial meter pedestals sit on the curb in Cleveland, Ohio, an area covered by Fields Electrical Sales. (right) The City of Oregon in Ohio uses Milbank enclosed controls to power this digital outdoor sign.
Fields Electrical Sales now represents Milbank in Western Pennsylvania and West Virginia. The FES team has been representing Milbank in both Ohio and Michigan since September 2013. During the past seven years, they have worked diligently to grow business across multiple Milbank product lines, setting dynamic goals that they continue to surpass.
The FES team consistently contributes to Milbank goals and initiatives and are always willing to go the extra mile. They actively monitor the status of their territory, identify issues that need urgent correction and have a strategic vision for future growth. Throughout 2019 they consistently gained several utility approvals on key Milbank products.
"Not only does the Fields Electrical Sales team work hard, they are enthusiastic about Milbank," said Jack Hackathorn, Director of Sales – East for Milbank. "Everyone who works with FES is impressed by their dedication to increasing their product knowledge and their efforts to seek new opportunities," added Hackathorn.
Fields Electrical Sales has been in business since 1935. Their experienced 16-person team possesses a broad knowledge of the electrical product industry and works to surpass the bottom-line objectives of the outstanding manufacturers they represent and the distributors and contractors they serve.
See the full list of
Milbank's manufacturers' reps
and the territories they cover. Or go to their website to direclty contact
Fields Electrical Sales
.