2/25/2020
Milbank Names Holbrook Associated 2019 Rep of the Year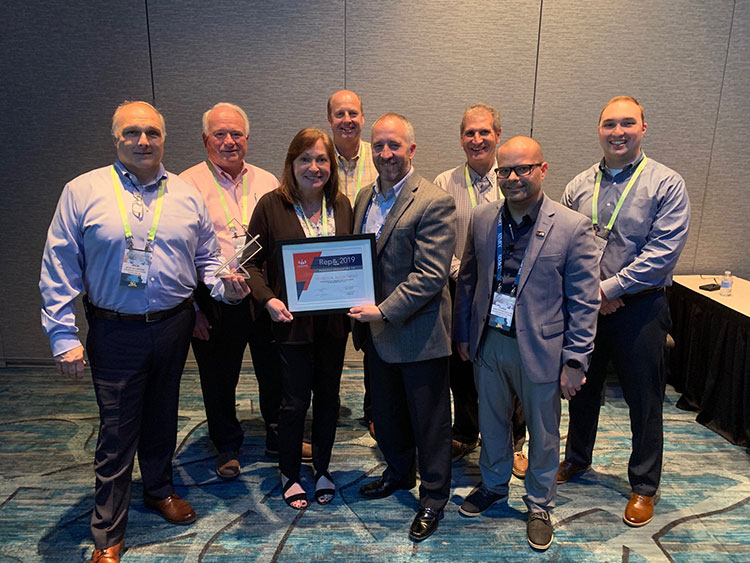 Milbank is pleased to recognize Holbrook Associated, a New England-based electrical manufacturer's representative, as its 2019 Rep of the Year. Milbank's Rep of the Year title is awarded to one manufacturer's rep agency based on a set of six criteria including positive growth over prior year's new sales volume in at least four of the seven Milbank product lines, exceptional customer relationships and extensive knowledge of Milbank products and internal processes. The selected representative should look for new opportunities with future growth potential and show initiative by working with the Milbank sales team on proactively improving the partnership.
Holbrook embodied all the requirements looked for in Rep of the Year and more. "In a territory where they already possess above average market share in metering products, Holbrook has not been satisfied," said Jack Hackathorn, Director of Sales – East for Milbank. "They actively pursue conversion opportunities in all product lines. This is proven by the exponential growth they experienced in all product lines in 2019," added Hackathorn.
Holbrook's loyalty to and passion for Milbank products continues to grow and allows them to deliver exceptional performance year after year.
"The team at Holbrook Associated has done a tremendous job representing Milbank over the last 40 years and has been instrumental in consistently increasing our presence in the New England market," said Chris Buelow, Vice President, Sales and Marketing for Milbank. "For them to achieve the growth they did in 2019 in a market that is established is quite the accomplishment," added Buelow.
Milbank's network of 31 representative agencies across the country is instrumental to the success of the company with each one dedicated to growing sales and building relationships with utilities, distributors and contractors.
To work with Holbrook on an upcoming project, see the
Holbrook Associated website
for details about how to get in touch.