2/12/2020
Milbank Receives Reps Choice Award at NEMRA Conference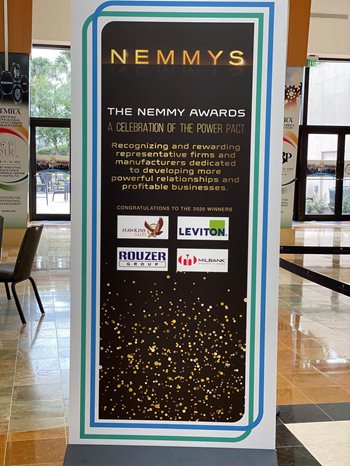 The National Electrical Manufacturers Representatives Association (NEMRA) celebrated 50 years and Milbank celebrated an award-winning weekend at the NEMRA 2020 Conference in Orlando, Fla. at the end of January. The annual conference brings together manufacturers and representatives to facilitate business planning and the opportunity to discuss marketing and sales initiatives.

As part of this conference, NEMRA hands out several NEMMY Awards. According to the organization, these awards are meant to "recognize and reward representative firms and manufacturers dedicated to developing more powerful relationships and profitable businesses."

Milbank received the Reps Choice Award, which recognizes a manufacturer who uses NEMRA's PowerPact concepts to improve their value proposition to their sales force and customers. Milbank was praised by manufacturers representatives for clear communication, responding to representative needs and operating with integrity and professionalism with both reps and customers. These elements directly reflect the statement of Milbank values.

Another honoree at the event was Rouzer Group, one of Milbank's manufacturers representatives, which earned the Manufacturers Choice Award. Rouzer Group represents Milbank in Minnesota and North and South Dakota.

The NEMMY Awards were developed to recognize groups building successful relationships using PowerPact concepts. The PowerPact initiative is driven by NEMRA and focuses on delivering better products and solutions to customers to drive growth for both manufacturers and manufacturers representatives.

Milbank is always striving for continuous improvement—in production, product development, resource management and relationships. By creating strong ties to manufacturers representatives, Milbank effectively serves customers and the needs of the market.