7/21/2021
A More Efficient Cold Sequence Product
Cold sequence metering products are developed to meet safety standards required by certain utilities. The term cold sequence refers to a means of disconnecting power ahead of the meter socket so that the components inside are deenergized or "cold." This method is used to allow workers to safely upgrade, replace or provide any other necessary maintenance for the meter. Typically, cold sequence is required by utilities on 480 volt services.

Traditional vs. All-in-One Installations

The traditional cold sequence installation requires several different products to complete. Using this method, a standalone safety switch is piped down to an approved meter socket for the utility. Two separate units must be mounted on a wall and then wiring installed between the two units.

Milbank cold sequence combos simplify the process by including all the necessary components in one enclosure. This new approach allows for quicker installation times and takes up less space than the traditional two-piece setup.

Milbank Cold Sequence Combos

Milbank cold sequence combos were designed using our heavy duty lever bypass meter socket. Depending on the product ordered, Milbank cold sequence combos can be applied to single phase, or network; three phase, three-wire; and three phase, four-wire applications. See rendering for an example of a non-fused U6550 for three phase, four wire applications.

These products come equipped with either a fused or non-fused knife switch for 200 Amps self-contained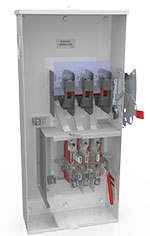 applications. The upper and lower compartments each have their own sealable cover, keeping the line side and load side separated. The lower compartment contains the meter socket and the upper compartment houses the disconnect knife switch for incoming power. For additional safety, the disconnect knife switch includes a quick make, quick break activation and deactivation mechanism to prevent unnecessary arcing.

Non-fused products don't have overcurrent protection and the disconnect acts only as an on-off switch.
Many utilities require cold sequence for applications that operate at 480 volts, which makes Milbank cold sequence products perfect for these commercial and small industrial applications.

Note that at a voltage of 480, some utilities require a CT meter socket instead of a self-contained meter socket. However, many allow both cold sequence self-contained or CT rated meter sockets. So be sure to check with your local utility to ensure the proper equipment is installed.

For more information on Milbank cold sequence combos, download the fused flyer and the non-fused flyer. Or see the video below: