1/6/2023
New Milbank Leadership Development Graduates
New Milbank Leadership Development Graduates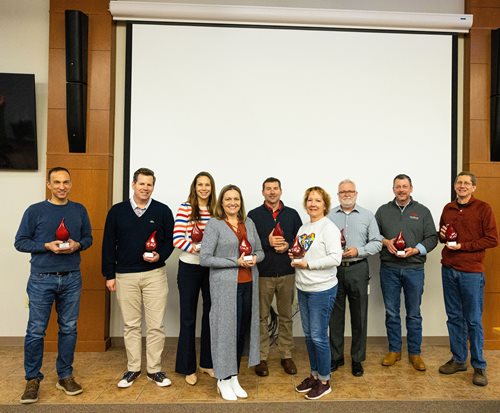 In 2019, Milbank created our Leadership Development program.
Due to delays brought on by the global pandemic, we are finally able to recognize our 2020 and 2021 program graduates.
This program was created to ensure the leaders of our organization are prepared to communicate with confidence, build strong, cohesive teams, develop employees, and contribute to employee retention.
During the duration of this program, Ben Godfrey, Director of Strategic Sales, stated, "It was great to participate in the learning and growth experience alongside other departments in Milbank I don't normally get to interact with."
Our Leadership Development curriculum is designed to support the Milbank culture by creating servant leaders. As servant leaders, graduates will be able to influence, inspire, and take personal responsibility for their teams. This is a crucial step in our journey of continuous improvement.
Jack Hackathorn, Director of Metering, Enclosures, and Enclosed Controls, shares, "I found the Leadership Development course to be both educational and enlightening. It was even fun at times! The main theme, servant leadership, can be found at the very core of
Milbank Family Values
. To be a leader, you must serve. I recommend this course to anyone desiring or currently holding a leadership role in this company."
Upon completion of the courses required for this program, there is an expectation that the graduate will continue to develop their leadership skills with further education.
Milbank would like to congratulate the following employees for their hard work and dedication in completing the Learning Development program:
2020 Graduates: Dan Newmaster, Georgia Briant, Jack Hackathorn, Jeff Caudle, Kerry Nelson, and Stacey Lager
2021 Graduates: Adrienne Sander, Ben Godfrey, Bryce Ludwig, Elliot Brand, Tami Green