4/19/2021
Testing and Developing Products at Milbank's Engineering Lab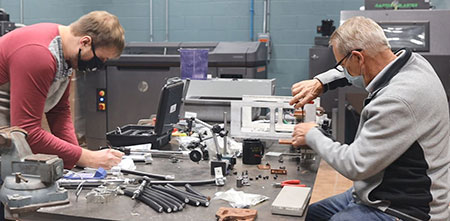 Two team members work on a product at the engineering lab.

Milbank has always been dedicated to delivering high-quality products that meet or exceed industry standards, with an eye toward innovation and the development of new solutions.

To remain innovative and continually improve our offerings, Milbank constructed its own engineering lab within the Robert F. Waldrop Center in Kansas City, Mo. In operation since 2003, the lab remains a key resource in product development and verifying ongoing product performance.

Products are tested in early stages of design as well as upon completion. To accomplish this workload, the engineering lab operates on an almost daily basis.

Key testing capabilities include:
NEMA 3R rain testing

Thermal testing up to 800 Amps and 40 degrees Celsius ambient

Endurance/overload testing for circuit breakers

Short circuit current testing up to 30,000 Amps

Di-electric voltage testing up to 10,000 VAC
Other capabilities include state-of-the-art 3D printing. Milbank can produce prototype components that not only help visualize new product design but are, in many cases, strong enough to withstand standard testing. This can save valuable time in the new product development cycle cutting out the need to wait for sourced prototype components—especially helpful if testing shows modifications are needed.

In addition to testing and development within Milbank, we also look to meet external standards. When looking for trusted electrical products, many contractors and utilities require those products to have a certification by Underwriters Laboratory (UL). A metering product that is UL Listed demonstrates it has achieved certain requirements for performance and safety as verified through rigorous testing.

Milbank's engineering lab has been a long-term participant in the UL Client Test Data Program (CTDP). Participation in this program reinforces our dedication to quality while ensuring safety and performance. By adhering to the program's testing protocols and quality management, we gain greater flexibility in scheduling our product testing and UL evaluation. Milbank engineers and product experts have built a strong rapport with UL, evident by our lab's long, successful history of participation in the CTDP.

You can find UL Listed Milbank products in our catalogs, through our website product search and by speaking to Milbank product experts. Already know what UL Listed products you need? Reach out to your local rep to find a distributor near you.