Bussed CT Cabinets, Termination Cabinets, Disconnect Combos
Milbank is pleased to announce high-amperage Current Transformer (CT) cabinet additions to our product portfolio. These bussed cabinets range from 400 to 3000 Amps. To install in conjunction with CT cabinets, Milbank also offers a range of CT meter sockets. Learn more about all our metering products.
We continue to work with our reps and utility contacts to obtain more approvals nationwide. Currently approved by: Adams Electric Cooperative, Alliant Energy, Ameren, City of Norway, Commonwealth Edison, El Paso Electric, Escanaba, Evergy, Gladstone Power & Light, Grand Island Utility, Kaukauna, Madison Gas & Electric, Menasha Utilities, MidAmerican Energy, Northern Indiana, Pedernales, Two Rivers, WE Energies and XCEL Energy. See catalogs and flyers for these utilities for more on the products that are approved in your area.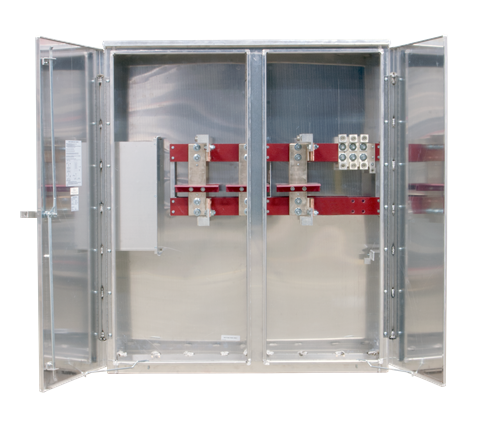 Cabinet types: Bar-type CT style cabinets, Window-type CT style with bus included, CT Cabinet with PT Cab, Transocket CT cabinet with CT rated socket installed and CT cabinet with PT rack options.
Installation Options: Overhead or underground entrance, underground entrance and bottom exit and pad-mount or wall-mount
Features: Three-point latching handle, NEMA 3R rated for indoor or outdoor applications, aluminum piano hinged door(s), wall-mount brackets provided, CT supports included (for window style CTs)
SCCR: 50K up to 400 Amps units, 65K 600–3000 Amps units
Applications: Used where higher-amperage power is needed: Large residential, multi-tenant, commercial buildings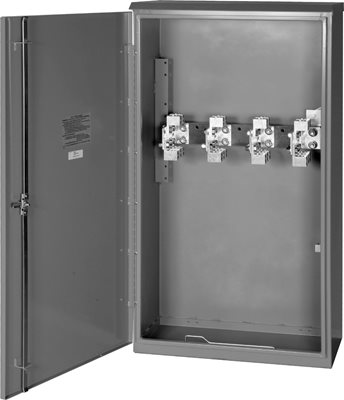 Installation Options: Overhead or underground entrance, underground entrance and bottom exit and pad-mount or wall-mount
SCCR: 50K up to 400 Amps units, 65K 600–3000 Amps units
Applications: Used where a long-run junction box or service termination is needed
Combo Disconnect Cabinets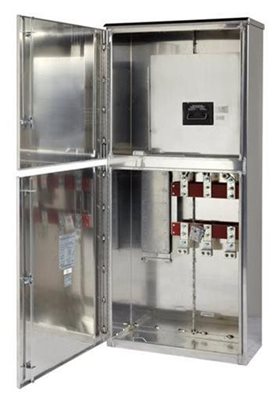 Combo Options: Breaker or fuse pullout (available at 400 Amps)
Breaker Combos: Single 400–1200 Amps or 2/200 Amps breakers
SCCR: Up to 65K AIC rating
Applications: Used where higher-amperage power is needed in conjunction with a disconnect