Freestanding Multi-Position Power Distribution
Verizon was looking to add a cellular repeater in downtown Milwaukee. The city needed a small footprint pedestal for power distribution. Anticipating other wireless carriers would be interested in cellular repeaters nearby, the city asked Milbank for a multi-service solution. Milbank engineers designed a freestanding, multi-position power distribution pedestal, the K6342. Each pedestal has space for four small frame breakers up to 125 Amps per position. The design was approved by the local utility, We Energies, and pedestals were installed at new cell tower sites across the utility's territory.
K6342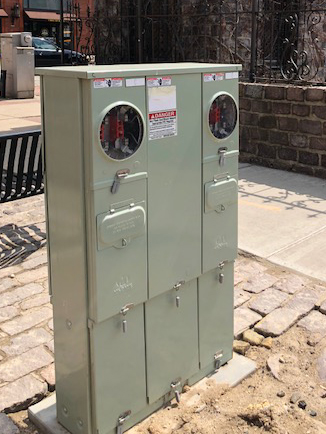 Gain Flexibility: The K6342 is a pad-mount weather-resistant electrical enclosure with a utility section for metering and multiple customer sections with provisions for a small frame breaker disconnect in each position

Save Space: Pad-mounted with a narrow footprint, the pedestal is ideal for power distribution in downtown or common locations with limited space where aesthetics matter.

Customize: Custom color options are available.

Vast Potential: Originally created for a cellular carrier wanting power distribution for cell towers and cellular repeaters, the K6342 would also work anywhere you have events with power needs for multiple vendors.