4/17/2023
Andrew Tait: Milbank Area Sales Manager and Now NEMRA Emerging Leader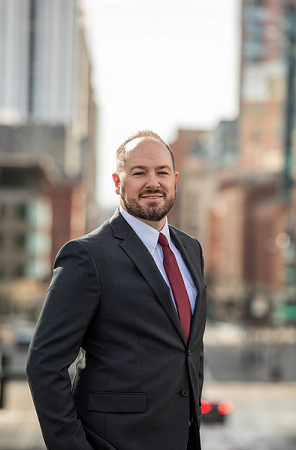 Family-owned Milbank Manufacturing, based in Kansas City, is committed to creating a rich employee experience- they're consistently seeking new ways to support employees as they advance within the company. Andrew Tait, Milbank's Area Sales Manager, Northwest, is taking the next steps in his employee development journey, as he was recently nominated for the National Electrical Manufacturers Representatives Association's prestigious Emerging Leaders program. NEMRA's Emerging Leaders initiative strives to facilitate meaningful connections for aspiring leaders and support them as they
build their leadership
skills:
"I am honored to be nominated to NEMRA's first Emerging Leaders program. I have always enjoyed building connections with Milbank's sales reps and the Emerging Leaders program will be great way to gain further insight into the experiences and practices shared by up-and-coming leaders at reps and manufacturers."
NEMRA's annual conference was the official starting line for the Emerging Leaders program, a three-part event that spans 16 weeks. Tait joined other NEMRA EL's at the Las Vegas conference to learn from venture capitalist and innovation expert, Josh Linkner.
Following NEMRA's annual conference in January, Emerging Leaders program nominees embark on 16-week journey of continued education through streaming micro-learning content. There are also several virtual keynotes recommended by Linkner and his team to further motivate and inspire up-and-coming leaders the electrical manufacturing industry.
Corey Collins, Milbank Manufacturers' Representative with Agents West, played a key role in the development of the Emerging Leaders program:
"As product and technology grow in the electrical industry, there is an increasing demand for talent and leadership. NEMRA is focused on our next generation of agent and manufacturer leadership. The Emerging Leaders Program embodies a vision and a practical approach that is yielding
real-world
results for its participants. The Emerging Leaders program satisfies both the sponsor's desire to bolster their leadership team while providing the Emerging Leader the innate desire for personal and professional growth."
NEMRA's Emerging Leaders Program provides a platform to develop and engage your organization's emerging leaders and equip them with the tools and knowledge they need to be more inclusive, purposeful, and ultimately more effective in how they lead. Visit
NEMRA's website
to learn more about the Emerging Leaders program.