12/15/2020
Learn the Levels of EV Charging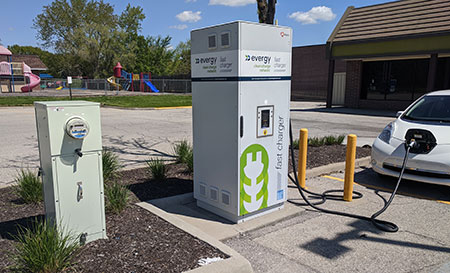 More drivers across the country are starting to buy electric vehicles as public chargers become more available.
The prevalence of electric vehicles is on the rise as concerns about cost and vehicle range start to decrease. More businesses, utilities and municipalities are making EV charging stations available, like Evergy in Kansas City, Mo. Others are looking at possibilities for fleets of electric vehicles and the most effective way to charge them. As discussion surrounding electric vehicles and charging enter common conversation, so are the terms tied to them. What level of charging does a vehicle need and what should be provided at public charging stations? Should you install a Level 2 station at your house? What does that mean, exactly?

This quick walkthrough will explain the basic levels and possibilities for the future of EV charging as we see it. The market for EV charging and the demands are changing every day, which means its necessary for anyone involved with the industry to think about what best serves customers now and what will best serve them in the future.

At the base of it all is Level 1 charging, the first kind of electric vehicle charging offered. Nowadays, Level 1 charging is most often done at home and requires a dedicated circuit. This consists of an EV driver plugging their car into a wall outlet or running an extension cord to the car. It can take a car 20 hours to change at this level, which is feasible for being parked at home overnight.

The next two levels of charging require more equipment. Let's dive in.
Level 2 Charging
Many of the public chargers that are around today are for Level 2 charging. This level of charging typically runs on 240 VAC with 40 Amps breakers. It will take a car about 10-15 hours to reach a full charge at this level. A good example of a network of Level 2 chargers is Evergy's Clean Charge Network, which partnered with Milbank to design custom pedestals for power distribution.

The power distribution required for this level of charging is not as high, so the equipment tends to be smaller and cause less visual disruption than for higher amperage applications. Milbank manages to keep the visual disruption to a minimum by ensuring that all necessary components are installed in a single, NEMA 3R enclosure (instead of two or three) through means like integrated transformers. Our enclosed controls for power distribution to EV charging are also available with a high short circuit current rating, metered and unmetered options and dual voltages available in the same enclosure.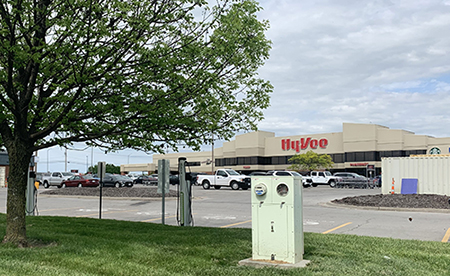 A Milbank enclosed control providing power distribution for Level 2 EV charging in Kansas City, Mo.
Level 3 Charging
EV charging projects are starting to trend toward Level 3 charging, also known as DC fast charging. This charging level runs at 480 VAC with 70 Amps or higher breakers that are intended to fully charge vehicles in less than an hour. Because of the higher level of power being used in these applications, the cabinets and componentry tend to be larger than for Level 2 charging.

Not all electric vehicles can take the amount of power in Level 3 charging stations, but the systems are designed so that the level of charging will decrease to Level 2 if needed.

Milbank is building enclosed controls that service DC fast charging needs in enclosures that run up to 1600 Amps on a 480 VAC system that have the capacity to feed larger frame breakers that are typical for these applications. The Milbank solution provides a smaller footprint than installing separate transformers or mounting all necessary componentry on a strut and backboard system. These cabinets are designed to service current Level 2 and Level 3 charging needs but are built to serve the future of EV charging as well for higher amperages.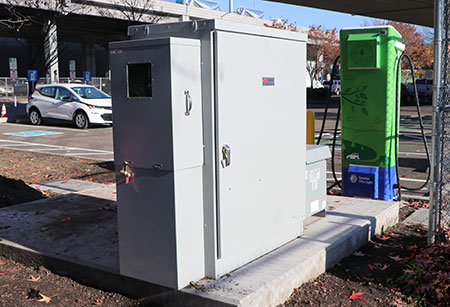 This Milbank cabinet In Seattle provides power distribution for Level 3 charging.
Looking to the Future
What will EV charging look like in the future? We're not sure yet—the demands are changing every day and the industry is working to fulfill those needs. The future of fleet charging—ensuring that an entire fleet of electric vehicles can be efficiently charged—might call for Level 4 charging to be added to the list.

From the beginning of EV charging to the present, chargers have continued to require higher amperage capabilities. Design and manufacturing challenges include being able to produce the power needed in a package that doesn't take up too much space but can also handle all the necessary capabilities. In addition, it's important to remember that different regions and electrical utilities will have different requirements for EV charging like they do with metering products. Milbank's strong relationships with utilities across the country for metering products allows us to effectively provide other electrical distribution equipment that meets their requirements.

As the popularity of electric vehicles charges forward, Milbank will continue working with utilities, businesses and municipalities to ensure drivers stay connected to power across the country.
Learn more about Milbank products for
electric vehicles
or
other applications
Milbank enclosed controls can be used for, including upgrading to 5G capabilities, traffic lighting, park lighting, temp power and more. Reach out to a
Milbank representative
in your area to schedule a demonstration of any of our solutions.