1/26/2021
Milbank Builds Stronger Teams with Training Opportunities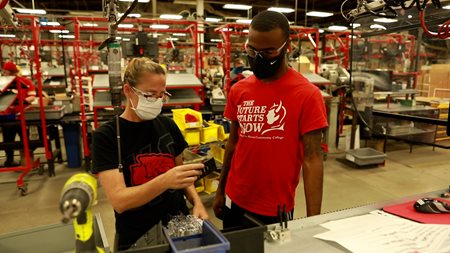 A good team helps make a company successful. That's why at Milbank we look for opportunities to foster growth and knowledge for our employees so they can make fulfilling careers at all our locations. In recent years, we have taken steps to focus on a comprehensive training program to improve job performance and employee satisfaction and created a department dedicated to employee learning and development.

Milbank has implemented and customized a training program that uses the Training Within Industry (TWI) tools to improve on the job training and opportunities for all employees. Because the TWI program focuses on a systematic training approach for all employees and written documentation of processes, our production teams can avoid silos and tribal knowledge. It also allows employees to try new areas on the manufacturing floor to see which task is the best fit for their skillset. Once employees begin working in new areas, TWI allows them to receive efficient training that quickly brings them up to speed.

Our training in manufacturing emphasizes the Job Instruction (JI) model, which relies on Job Instruction Breakdowns (JIBs) that have been created by employees who currently complete the process or task. A JIB documents the important steps of a process, its key points and explanations for why the job is done a specific way. Following this model, everyone who learns the process learns a consistent approach to the task and a shared understanding of why processes are done.

When training to the JI method, the trainer starts by putting the person at ease. They find out what the employee's past experiences are and what they may have done that could apply to the job at hand. The trainer explains what job they are being trained on and then describes the process they will take. The trainer shows the process three times and then the employee trainee goes through the process four times or more until they are comfortable.

Showing the process starts by going over the important steps of the job and what they will do in each step of the process. Then, the trainer covers key points—what makes or breaks the job, what can injure the worker, what is something that makes the work easier to do. Finally, the trainer covers the reasons for why the process is done the way it is. By going through each step of the process, the trainee can participate in the process and better understand how things are done. This method of training works to involve the new employee much more than simply explaining the steps taken to complete a task.

At any time, if an employee sees an error or deficiency, they have the power to request a JIB update and work with their team lead to research and test the issue, then disseminate the changes to the team when the process update is complete. Milbank also performs audits on each JIB that is created to verify its effectiveness.

Once someone has been fully trained in an area, they have the opportunity to become an official trainer themselves. To become a certified trainer, an employee completes a 10-hour Job Instruction class and then completes an additional 10 hours of one-on-one development with a training supervisor. To maintain their certification, trainers spend at least two hours a month working on development.

By gaining new skills and knowledge, employees can become experts in their area, find opportunities to apply for promotions in different areas of manufacturing and set on a path to create a career out of what they do, offering input that makes processes safer and more efficient. Milbank takes its commitment to safety seriously, working to become a Voluntary Protection Program (VPP) Star Site through OSHA in Kansas City and as evidenced by continuing safety efforts. A well-trained team who contributes to improving processes helps us maintain that status.

In September 2020, Milbank applied for SME's inaugural Excellence in Manufacturing Training Award. SME is a nonprofit association of professionals, educators and students committed to promoting and supporting the manufacturing industry. The Excellence in Manufacturing Training Award honors a manufacturer that demonstrates an exceptional commitment and dedication to upskilling the workforce, enhancing talent, and preparing new and incumbent employees for a successful career in the manufacturing industry. SME's panel of judges selected Milbank to receive this award for our commitment and dedication to talent development, recruitment and retention.
The Missouri Association of Manufacturers developed the Made in MO Leadership Awards to honor manufacturing companies. Milbank is also proud to have received the award for Manufacturing Talent Development in October of 2018, based on our dedication to training, retaining and advancing our talented workforce.

Having this training in place has boosted employee efficiency and morale and will help lead to continued growth and success for Milbank as a whole. Interested in joining our team or know someone who would be a good fit? See our current open positions.