6/2/2020
Milbank Emphasizes Safety Measures to Protect Employees
As many workers start to head back to the office this June, measures will be taken to create a "new normal" and keep employees safe. The team that has been working remotely for Milbank the past couple months will start heading back to the office with guidelines in place to promote worker health and safety. Many of these implementations are already in effect on the manufacturing side and will be applied to office workers as well.

Milbank has been sewing cloth face masks as well as manufacturing face shields and is providing both for employees who need them including our manufacturers' representatives. All employees who are onsite are required to wear a mask when entering the facility and continue wearing the mask whenever in common areas or working within close proximity to others.

Plexiglass shields have been installed between individual work areas for added protection and workstations have been moved where possible to help create additional space between workers. In addition, break rooms and conference rooms have been rearranged to limit seating and virtual meetings are encouraged when possible.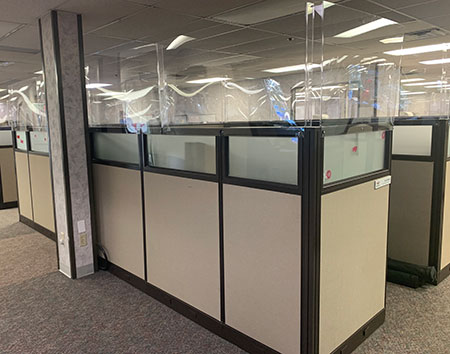 Plexiglass barriers have been installed between workstations to provide extra protection.

All employees and visitors entering Milbank buildings will be screened for COVID-19 symptoms and possible exposure. Anyone with a temperature over 100.4 degrees will be sent home. Anyone with exposure to COVID-19 outside the workplace will quarantine at home for 14 days and be allowed to return if they do not develop symptoms during that time. A recent OSHA policy revision also requires employers to record cases of the virus if it is confirmed positive and determined to be work related.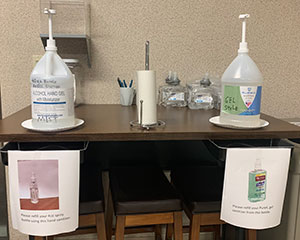 Cleaning practices will ensure that common areas and frequently touched surfaces are cleaned daily, with kitchens and restrooms cleaned several times per day. Employees are encouraged to clean and disinfect workspaces throughout the day. Additionally, hand sanitizer is provided throughout the building, including a refill station for individual bottles (see right).

Business travel remains restricted to essential travel only.

These efforts are in accordance with CDC guidelines. The guidance from the CDC specifically concerning manufacturing workers and employers was developed with help from the Occupational Safety and Health Administration (OSHA). In addition, the Manufacturing Leadership Council, part of the National Association of Manufacturers, recently compiled a report with operational practices to consider. These considerations include restricting visitor access, conducting temperature checks, conducting extra cleaning and having a clear response plan in place for if an employee falls ill. Milbank is first and foremost concerned with the health and safety of its employees and clients and has implemented many of these considerations.

Milbank is proud of the essential work it does to provide electrical distribution equipment across the United States and around the world and values the well-being of our employees, clients and partners. We will strive to keep each other safe and work together to continue providing quality products for the manufacturing industry.