7/15/2020
One Secure Enclosure for Multiple Distribution Needs
When an area like a park needs additional power distribution for lighting, irrigation or athletic fields, one common approach is to simply add the meter for that particular need to a current backboard system. This backboard system leaves individual components exposed. In addition to taking up more space, this system is vulnerable to the elements and power theft. In contrast, Milbank's enclosed controls offer a solution that places all distribution needs inside a single NEMA 3R enclosure for added security and a smaller footprint. This alternative solution proved to perfectly fit the needs of Littleton, Mass.
Looking for Holiday Lighting
The Town of Littleton, Mass. needed dedicated circuits to organize holiday lights for the Town Commons. All other power distribution for the Commons—park lighting, street lighting, DOT traffic control and irrigation control— were assigned to different components that were mounted on a strut and backboard system.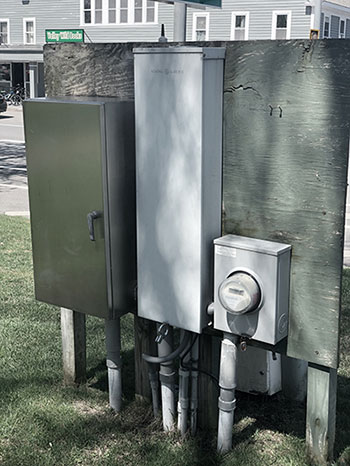 A Solution to Meet Multiple Needs
Milbank engineers worked with local manufacturers' rep Holbrook Associated to design an all-inclusive solution for the Town of Littleton. Rather than provide a small pedestal dedicated to holiday lighting, Milbank provided a 24-inch pedestal to replace the strut and backboard system. This pedestal contains the park lighting controls, irrigation system controls, holiday lighting controls, two power receptacles and provides power for the DOT traffic control box. The 200 Amps, single-phase pedestal has a 24 circuit load center, five contactors and Hand-Off-Auto switches as well as a time clock and photocell. This smaller setup is more secure and aesthetically pleasing and puts the bulk of power distribution solutions all in one enclosure.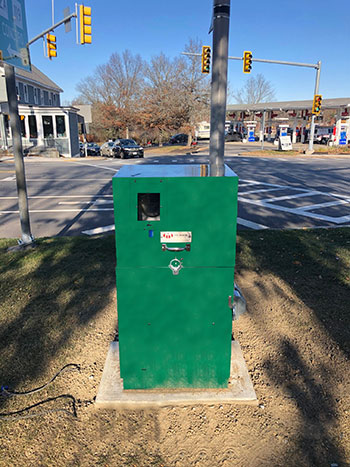 Park lighting is one of the most common applications for enclosed controls. Download the flyer of the Littleton case study or learn more about other common applications for enclosed controls.

For more information on the Milbank enclosed controls line, download the product portfolio or contact our enclosed controls team.