Heavy Duty Meter Sockets
Milbank heavy duty meter sockets have a lever-operated bypass to allow for safe removal of the meter while electricity stays connected—with no power interruption.
Basic Breakdown
100-320 Amps self-contained
Also available as CT rated 80 Amps
600 VAC
Single phase and three phase
NEMA 3R enclosure
UL listed
Constructed from G90 galvanized steel, aluminum or stainless steel*
*for select products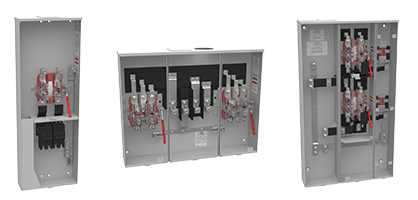 Milbank also sells heavy duty meter mains, gang sockets and condo packs available at 240 and 600 VAC.
The lever bypass is not a disconnect switch. Do not open or close bypass under load unless meter is in place. Learn more about the difference between a bypass and a disconnect.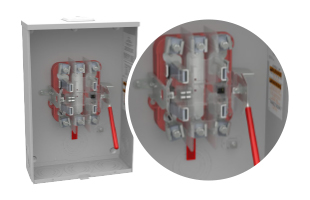 Why Heavy Duty
Whether you're concerned about safety or product quality, Milbank heavy duty lever bypass products have you covered. Utilities are requiring safer products to protect workers in the field. The added safety components boost product performance.
Features
Lever in the up position places meter in bypass mode
Spring-loaded jaw clamping
Units up to 200 Amps have molded lay-in lugs
320 Amps units have studded block for mechanical lugs
Benefits
Protects from coming into contact with live components
Increasingly required by utilities
Tighter jaw clamping capability; better electrical connectivity, which produces less heat
Allows for faster wire installation
Flexible, can use with single or parallel wires
Ideal for going to multiple load centers
Popular Products
Below are some of Milbank's most popular heavy duty lever bypass meter sockets. This does not represent all our heavy duty line. For more available heavy duty product, reach out to your local rep!
Download Resource
See all the heavy duty lever bypass information in one place with our downloadable heavy duty trifold! Simply click on the button below.
Applications
Common applications for heavy duty lever bypass products include commercial buildings such as standalone fast food restaurants and salons. More utilities are requiring for residential applications.

Commercial

Industrial

Residential