A Pedestal to Suit Your Needs
Milbank engineers will work with you to design a pedestal that works for your specific application. Units are available metered or unmetered, in a variety of sizes and materials. Some available components are battery backups, clocks and timers, receptacles, surge protection, contactors, transformers, push-button controls, generator inlets, switched loads and motor starters.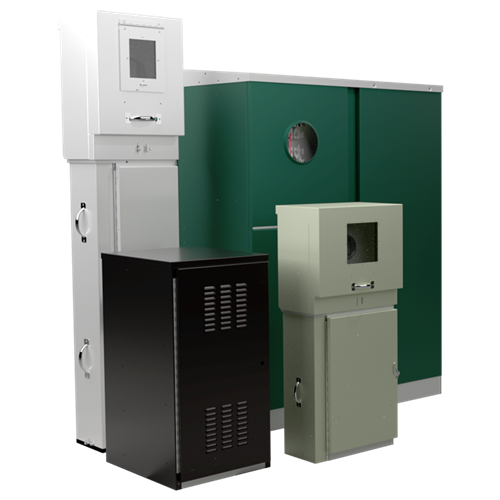 Embedded Concrete
The pad-mount base, the most commonly used mounting option, is a rectangular frame that is embedded in concrete at the installation site. The base includes necessary mounting hardware.
Units can also be secured in concrete using anchor bolts. Each kit includes four 18" bolts.
Direct Bury
Direct bury pedestals offer many advantages. With no need to coordinate, buy, or wait for concrete, installation time can be cut down to less than an hour. Traditional direct bury pedestals are awkward to transport and handle and can only be used in a direct bury application. Milbank's modular design offers flexibility and convenience for distributors and contractors alike.
Wall- or Pole-Mount
Milbank offers wall- and pole-mount enclosed controls that are available in aluminum to reduce weight and make for an easier installation. Several latch and locking mechanisms are available. Download the surface-mount flyer for more information.