Case Studies
The Milbank enclosed controls team can work to create solutions for any application. Featured on this page are a few of the different projects that utilized Milbank enclosed controls to solve power distribution challenges. EV charging, traffic controls and lighting controls are all perfect applications for enclosed controls—but the possibilities go far beyond these three. Reach out to the enclosed controls team to learn more.
EV Charging
In order to build its network of Electric Vehicle charging stations, Evergy (formerly Kansas City Power & Light) required a single device that incorporated meter and service panels to streamline construction. They needed an alternative to a laborious installation requiring a support structure to mount meters, disconnect switches and load panels. Milbank engineers worked closely with Evergy to design safe, durable and sleek enclosed controls with minimal impact on streetscapes. As the project evolved, Evergy needed different distribution variations based on location, type and number of charging stations. Milbank was able to quickly and easily produce designs that fit their changing needs. Evergy is currently using five unique internal configurations to address all utility requirements. Download the EV charging case study.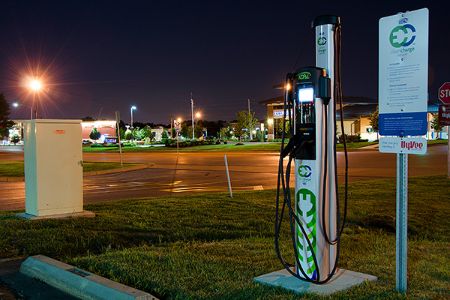 Traffic Control Retrofit
Hennepin County in Minnesota was interested in replacing and upgrading their rusting metering cabinets with battery backup units. The unit had to fit in a 17-inch wide area on the signal cabinet pad. Milbank created a custom stacked solution with utility access to the meter on the back side. The unit features custom components like a photocell receptacle, push button switch, an eight circuit load center and four battery shelves.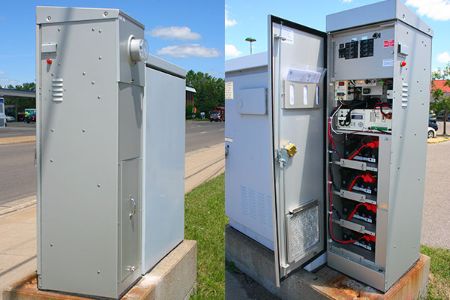 Lighting Control Retrofit
Built by the City of Chicago in 1958, the Skyway Toll Bridge connects Northwest Indiana to the heart of Chicago and spans 7.8 miles long. The bridge had 19 aging lighting control cabinets that needed to be replaced. The challenge was that the new cabinets needed to all be one standard size, but also have the ability to fit on various types of bases and structures. Milbank engineers designed a safe, durable and sleek application to replace the existing cabinets along the bridge. They designed each cabinet with openings that could be adjusted at the base for an easy fit on multiple structures. The new applications have custom features, a sleeker design, updated components and the ability to fit on the various existing bases. Download the Skyway Bridge case study.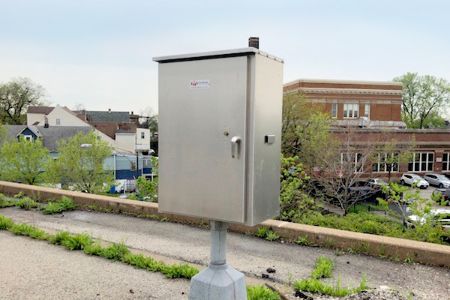 Street Lighting Retrofit
The Route 250 highway bridge in Sandusky, Ohio, had a corroded electrical supply enclosure powering its street lights. The old unit was rusted and falling apart and contained a power-supply load center with interior conductor circuits that were too large to put in a standard breaker. The challenge was to create a more permanent solution that could continue to provide lighting for the bridge. Milbank engineers developed a new aluminum enclosure that contained a load center and was raised off the ground with a concrete base. The updated power source unit includes terminal blocks in order to accommodate larger conductors and has room to house more components like additional circuits, photocell, a Hand-Off-Auto switch and more. Download the Sandusky bridge case study.